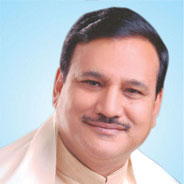 My Dear Students & Respected Parents,
It gives me immense pleasure to welcome you all at Kids Club School as we enter a new decade in providing quality education. The school continues towards establishing the high standards of education.
With the guidance of the school's Founding Father, we are able to deliver value- based contemporary education for our student's holistic development. We believe that our institute is a temple of learning and for providing students with ample opportunities to develop their skills and personalities by not only building them great scholars but also making responsible citizens.
Education is about creating a bridge between the knower, the known and the process of knowing. We believe that the basis of all life endowed with the ability to know anything, do anything and accomplish anything.
The process of education starts with experience, then understand, application, verification, authenticity and finally organise to perpetuate this holistic path of enlightenment through tradition of teaching in long corridor of time – by amalgamating traditional school of thoughts and modern system of education to achieve the ultimate goal of life with quality living.
Kids Club School offers a Consciousness Based Education Curriculum, Balanced, Contextualized to the school student from play group to class secondary that will prepare them comprehensively for life oriented, value based individual and from a firm base for study in higher classes and fulfill the goal of education i.e. Action – Achievements – Fulfillment
The curriculum of Kids Club School is based on the mantra, "Life is bliss" and 'Let children be themselves'. Where children are given wings. The school also ensures that they develop strong roots. Most importantly, children are loved and made to feel cherished so that they approach life with a positive attitude. In a way, Kids Club School ushers the child into a world of possibilities, where his/her personality blossoms.
Life is bliss & you can accomplish what you desire by determination, discipline, dedication & devotion.
Our moto is "eq ent tem" "sat sanidhayo ver tyagah"'. Revert The Enemy Before Its Birth – Enmity Converts Into Coherence.
| take this opportunity to thank all parents for their valuable suggestions and request them to keep doing so and help us on the perennial basis.
With Best Wishes
Dr. T.C. Pathak