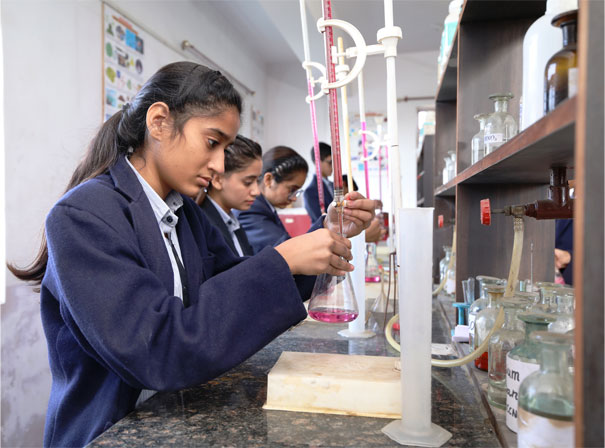 Kids Club School is well-structured educational institute formed with various Labs for practical exposure to students. Our labs include Computer Lab, Science Lab, Maths lab & English Language Lab. These subjects are taught in all sections of the school and the labs are equipped with all resources and facilities. There are varieties of special educational programs installed at each lab respective of the learning methods.
Computer labs are equipped with computers to have access to various applications and a variety of computer languages to learn from. Science lab is providing education for performing experiments and handling organic and inorganic chemistry and biological life science activities. The math's lab is designed to teach in a more pragmatic and life-oriented school level. Our lab facilities make learning interactive, participatory and fun-filled.
House System
To facilitate the blossoming of valued talent of the student the school offers the House System. The four houses are Emerald, Topaz, Ruby, Sapphire. Every student of Class | – XIl on admission is placed in one of these houses.
Physical Education
Physical education promotes fitness, cooperation, sportsmanship and school spirit. The mind-body coordination is very essential for he student for making success in their life. For the physical and mental alertness and keeping the students fresh, physical education is provided under the guidance and supervision of qualified game teacher. The school has a well equipped play ground nearly 50000 sq.ft. area. The outdoor and indoor games facilities like badminton, table-tennis, kho-kho, chess, carrom, shooting, skating etc. are provided to students, besides, and there is a mini swimming pool in the school premises.
Organisation
Pre Nursery, Nursery & Prep
Class 1-111
Class IV – VIII
Class IX, X & XI, XI
The most impressionable age in the child's life is the pre-primary age at this age, the development of the child is rapid and students absorbs almost all that is taught to him. It is therefore on the adults to impart knowledge that would help the child develop good habits. Proper attitudes and an inquisitive mind. With these objectives in mind, the nursery school offers an innovative approach to learning and helps the young's child in developing knowledge, skills and confidence, thus giving a firm foundation that will stand the child good in future.
"Learning is fun"——- Towards this goal the school has set up a junior activity room, which is well equipped with educational toys. Audio and videocassettes, story-telling sessions including a vast array of fairy tales to leave them in a world of joy and constructive learning. The activity room also has a library for the children to develop their basic cognitive skills. Reading habits are inculcated right from this age. The books enable them to get introduced to a world color picture, figures and alphabets and prepare them for the world of pen and paper.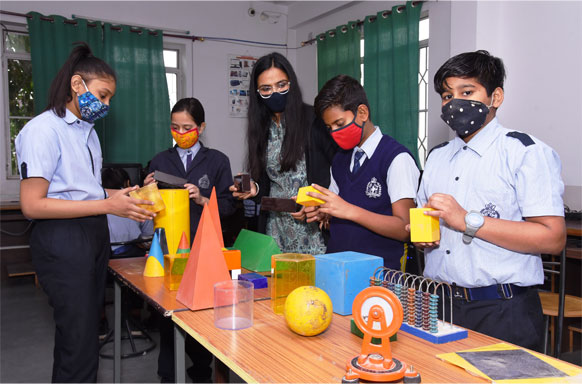 The curriculum for Nursery and KG takes care of the development of personal, social, behavioral, intellectual, communication and motor skills. Children have an access to the computer lab with the latest software from all over the world. It is a beautiful sight to watch children handling the mouse confidently to solve problems posed to them. Outings and picnics are arranged for children regularly. The teachers also help to inculcate in them table manners and etiquettes. In addition to learning English, maths and EVS, the children are also exposed to drawing, painting, paper craft and value based education.