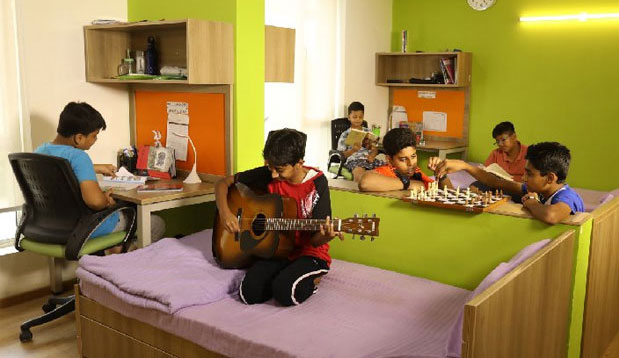 Day Boarding Hostel in Jaipur|Rajasthan
Kids Club School has a well- stacked hostel as well, in addition to the day schooling and day- boarding facilities. We are very rigid about our policies concerning health and safety. In fact, the schools top-level managers share the same food as the students to maintain a check on the quality of food served to the hostellers as a counter measure to the claims made by students, generally from hostels around the country.
The surroundings are very nature friendly with a lot of greenery that acts as a natural air purifier for anyone within the school campus. Additionally, the homely greenery rich atmosphere is always appreciated by students and their guardians as it is mentally perceived a very stress-free environment to be in.
Additionally, we make sure that other than learning basic things like proper cutlery usage, spoken English, etc., we emphasize culturing the students as well. This includes celebrating all festivals and explaining the reason behind their celebration, in addition to daily prayers in the evenings. There are loads of other factors that we believe make our hostel a really good one for the overall development of the child, however, we think it's best to discuss it at large with tasking people on a tour when they come to visit.